Walking along Luang Prabang's Riverside, two things immediately jump out at you. The colours and the "café/coffee" inscription. Shades of green, blue, and brown share this stretch of the Mekong with a series of small bars and restaurants that have breathed new life into colonial houses left to age.
Coffee in Laos is one of the legacies of the French. Most of the production is located in the country's south, on the Bolaven Plateau. In 1997, some villages around Luang Prabang began producing coffee, apparently at the initiative of UNESCO. These villages were given the first seedlings and the skills to grow them. But then the support ended without creating a target market that could buy the coffee produced. Thus, in a short time, many of these villages stopped growing coffee because it was unprofitable, and production in the country's north nearly died out.
An ethical production
"Today," Todd – director of Saffron Coffee – tells us, "things are different." In 2007, thanks to the investment of Dave, the then director of Saffron Coffee, some of the plantations around Luang Prabang were brought back to life. Are 36 villages still cooperating with Saffron Coffee, specifically, 780 families live off this ethical production. And the number is bound to grow because the demand is so high. "In the next two years, we plan to plant sixty more acres to increase our production," Todd tells us.
It works like this: Saffron Coffee buys coffee plants, gives them to farmers, and teaches them how to grow them. Then, it buys 100 per cent of its production, thus ensuring a stable market for producers. Currently, the fruits are not processed in the villages but are taken to Luang Prabang, blended and roasted. Some of the production is for domestic consumption-mostly by Lao bars and restaurants-while about 20 per cent is exported. The country with the highest demand at the moment is Japan.
Coffee produced in northern Laos is not very strong and has a distinctive taste: a nutty or chocolate note, depending on the variety chosen. Saffron Coffee markets six varieties, five of which are produced around Luang Prabang. One, however, Mekong Forest, is produced in collaboration with the Wildlife Conservation Society in the Nam Et-Phou Louey protected area.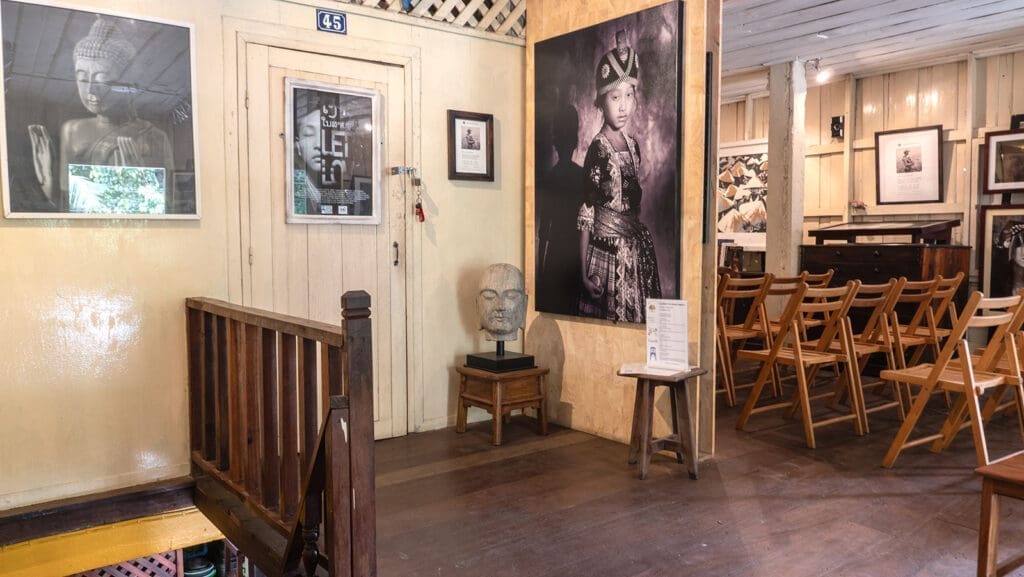 Coffee, Korean cuisine and photography
"We like it strong, though," Mija tells us with a smile. She opened the Big Tree Cafe and Gallery with her husband, Adri. It is more of a restaurant than a café, specialising in Korean cuisine since Mija is originally from South Korea. But even so, it is serious when it comes to coffee here. They buy it from Dada Coffee, which, in turn, sources it from the country's south. The coffee produced in Laos is 100% Arabica; again, they roast directly in Luang Prabang.
The Big Tree Cafe and Gallery is also a special place for another reason. Upstairs is a small photo gallery that plunges you into a time that is no more. The photos hanging on the walls are all taken by Adri, who also organises cultural gatherings here, such as, for example, a film festival of Laotian short films.