In the south-west of Thailand, in the province of Ranong, in the Andaman Sea, there is an island that still jealously preserves its discreet charm: it is the island of Koh Phayam. An island still off the tourist routes. Arriving here, one feels a sense of peace, warmth, welcome and spirituality. Beaches, untouched bays, clustered mangroves, roads without cars, only motorbikes and bicycles. The people of Koh Phayam still try to live according to ancient traditions. It is in this atmosphere, in this little paradise of the Orient, that a group of Buddhist monks live. They discovered the island as early as 1400 and considered it a spiritual place. The shrine is located on the east coast of Koh Phayam and is the only temple on the island. The architecture has Thai and Burmese influences.
A large Buddha statue and many other smaller statues overlook the sea, while the prayer temple, connected by a long wooden bridge, stands in a mystical and picturesque location by the sea.
It is here, along this coastline of just a few kilometres, that the spiritual life of some thirty 'sea' monks unfolds at a regular pace. They can neither work nor handle money.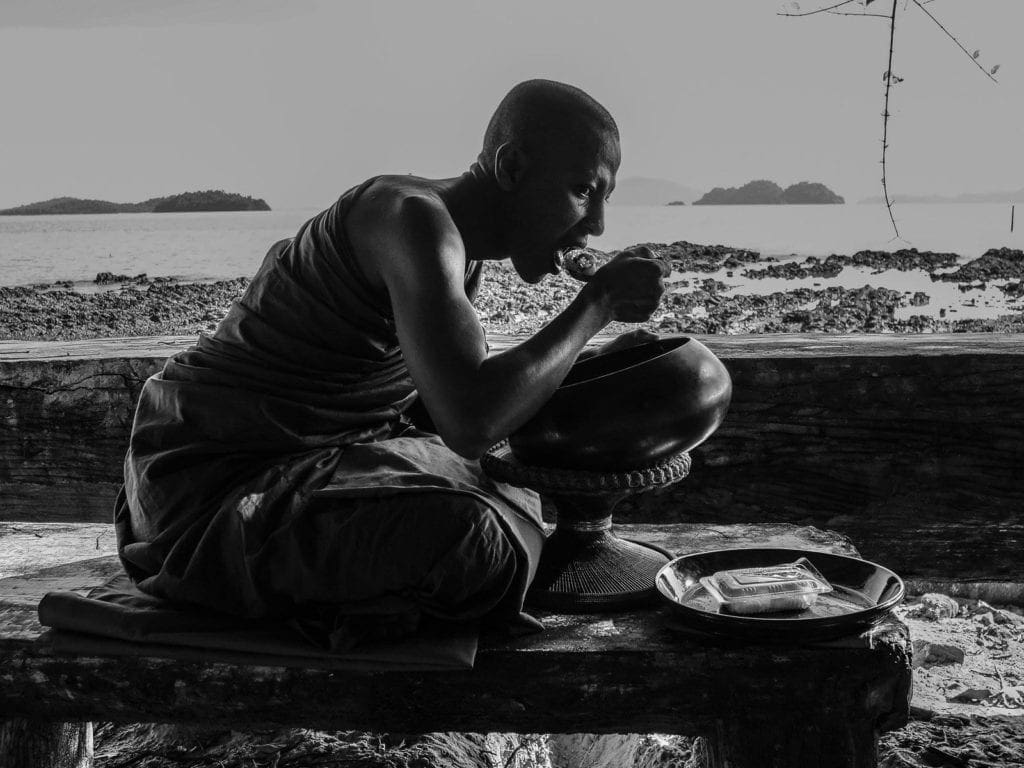 At sunrise, before 6 a.m., monks wrapped in their bright orange robes walk the coast from one end to the other to perform the Tanbum. With a large bowl, they collect, from the local population, the daily offering which is, for the most part, of a food nature. Buddhist monks cannot receive the oblation directly from the hands of the worshipper but the donation must be placed directly into their basket. The benefactor will receive a blessing from the monk.
The fascinating rite of offering is an evocative and enthralling practice. Donating food to a monk is a very important ritual in Thailand. The believer who performs this action will gain the path to Nirvana faster.
Once their daily procession is over, the monks return to the temple with the collected meal. It will be the only meal eaten during the day.
In the afternoon, most of the monks stay inside the Wat to meditate, study and write. Others devote themselves to cleaning up the temple by tending plants or crocheting.