Dealing with a child's disability is not easy. Endless are the questions that crowd the minds of the parents to whom it happened. Some above all, however, need an urgent response: once the parents are gone, what will the heirs do? How will they cope with everyday life? Who will look after them and their needs? There are also places where other problems are added to these. Hunger, the lack or scarcity of prospects, superstition and a cultural substratum that is too often closed. Fortunately, as is sometimes only the case in fairy tales, even in these places there are those who, willing, enlightened and moved by a simple desire to do good, fight to be able to provide assistance and a tomorrow for people with disabilities, whether physical or mental. This is the story of Little Eden in the South African town of Edenvale, of Lucy Hyams and her husband, who have been struggling for almost 60 years to care for the last of the last.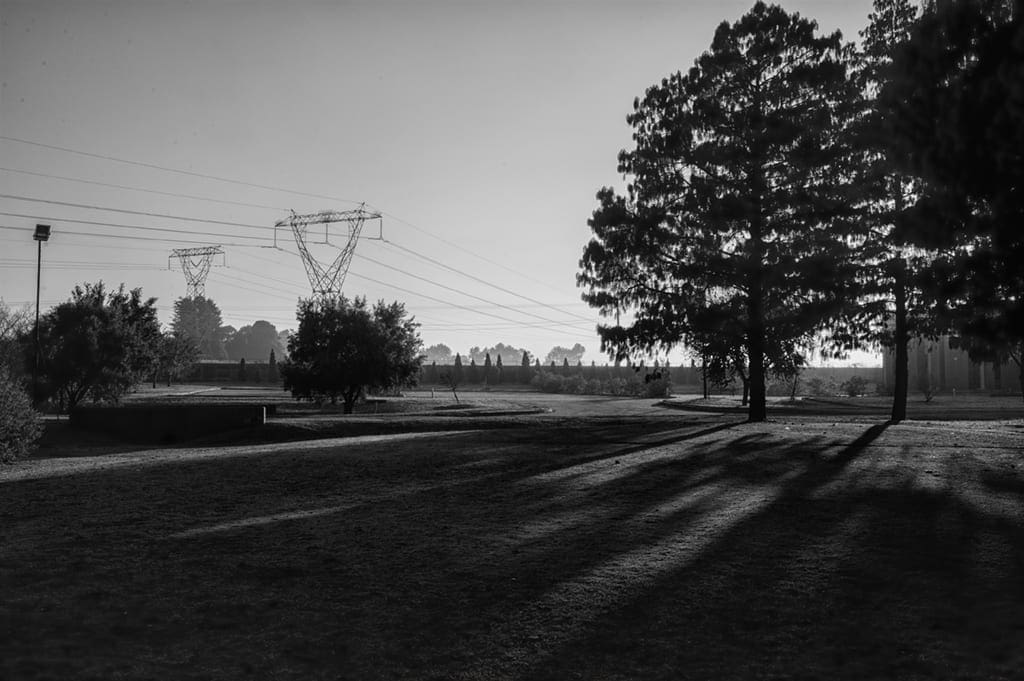 The complex, surrounded by the greenery of a very large park, was founded in 1967 by Lucy's mother, Domitilla, of Italian origin. Since then it has grown and accommodated a very large number of people. In 2018, the centre housed around 250 guests with a wide range of illnesses. The managers intend to take charge of the life of the people who knock on their door, aware of the complete absence of the children's parents, relatives and friends. Yes, because in addition to the difficulty of giving their children a decent life, parents who leave their children at the centre have to deal with a cultural factor that is difficult to eradicate: superstition. If an 'abnormal' child is born, it means that God is angry with the couple who must have done something they shouldn't have. A different child is a punishment, a public admission of guilt, a social pillory. The solution is to get rid of the child, hoping, in this way, to appease the wrath of the Lord and that the next unborn child will be normal. This leads to the complete abandonment of the little ones who, if they did not arrive at the gates of Little Eden, would be condemned to certain death. Abandonment is not mere neglect. It is about physical abandonment in lonely places. And it applies to everyone, regardless of age. So many adults are taken to Edenvale and left alone. Many parents never come back to see if they are well, nor even care whether or not they get access to the facility.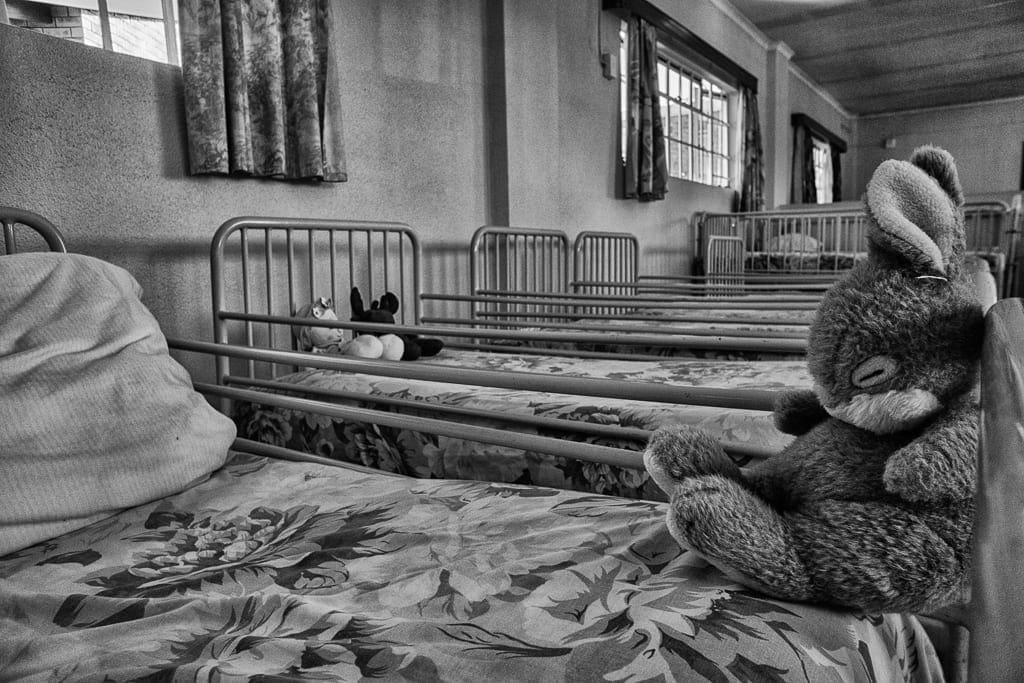 Little Eden attempts to make up not only for material shortcomings but, above all, for spiritual and emotional ones. The facility is not just a place of accommodation. It is a family and behaves as such. People try to care for and help each other as much as possible. They do things together. There is no lack of disagreements and quarrels, but they try to move forward. And you don't need big things to do that. On the contrary, it is the small things that give comfort to those who live Little Eden. It is waiting for volunteers, from all over the world, for music therapy or to play. It is seeing Lucy's assistant coming through the door to accompany the physiotherapist to the baths. It's starting to get hungry and smelling the smell from the canteen kitchen, knowing that soon we will all be able to eat together. Then some can and prefer to eat alone, but they are never alone, as in a family.
It is not, however, all that simple, just as it is not simple within a family. There are grey areas, moments of complete stagnation and inactivity. Hours go by for staff to come to everyone, doctors to visit, and exercises to be done for everyone. Hours in which guests are left in large waiting rooms or corridors, often alone, sometimes with just a single operator for dozens of them. Fortunately, in the immense park surrounding the estate one can walk around, play in the gyms set up, go on swings, and pray in a small church not far from the refectory, built thanks to donations from a private individual. And here's the real big problem. Little Eden doesn't get much help from the state. Far from it. This covers 30% of the monthly requirement, leaving the remaining 70% on the shoulders of the managers.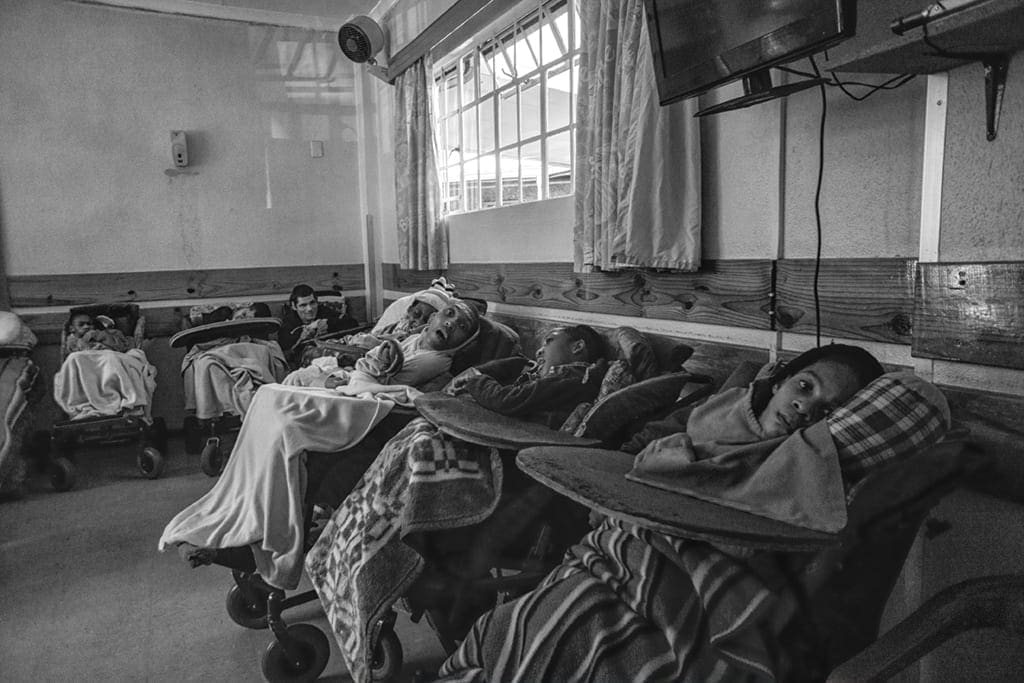 Despite everything, Lucy has never given up and has no intention to do it. Every day, having made the usual rounds of control and coordination, she goes knocking on the doors of supermarkets, private users, and associations to scrape together enough to continue. The alternative is to close down, to abandon the hundreds of people housed there to a doomed fate. An option that is not in the spirit of the administrators, who are aware that the fight is not against something material, tangible, as much as against a mindset that considers these people god's punishments not worthy of any help. This is the real disability to fight, and it is in perfectly healthy people.